Essential accessories for increased independence across the South East
While much of our work here at Kardinal Independent Living is dedicated to the provision of mobility devices like scooters, chairs, stairlifts, and so on, this is by no means the sum total of the products we deliver. Both our Worthing and our Rustington showrooms have an extensive range of mobility accessories designed with the customer in mind. Whatever you need to help you regain your independence around the home, you're sure to find it here. Customers from across the South East, including Bognor Regis, Burgess Hill, Chichester, Crawley, Eastbourne, Guildford, Hastings, Haywards Heath, Horsham, Hove, Lewes, Rustington, Tunbridge Wells, and beyond have told us how useful many of these independence aids and accessories have proven in their day-to-day lives.
What Kardinal Independent Living can do for you
As the South East's premier providers of mobility scooters to the region, there is much we have to offer to our customers. Here are just some of our more popular services…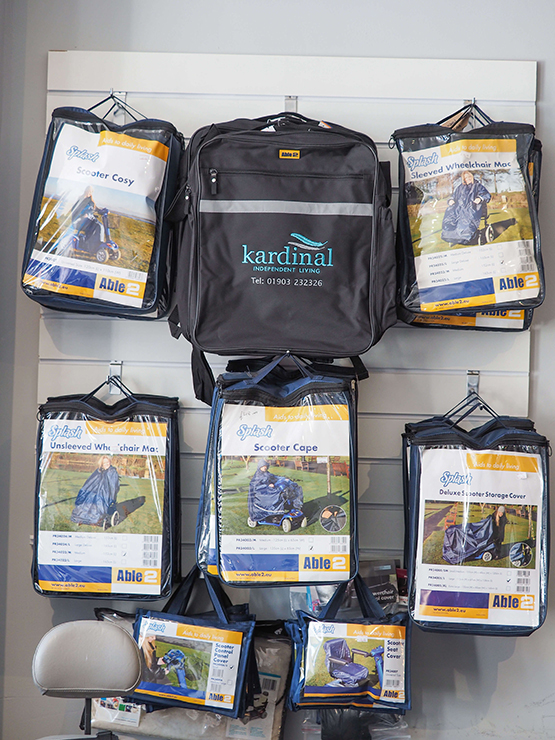 Bathroom aids and accessories
We offer a wide variety of toilet and bathroom aids to help our customers with bathing, showering, and making use of the lavatory. These include bath lifts, bath seats and boards, commodes, grab rails, integral toilet frames, raised toilet seats, shower stools, toilet accessories, toilet frames, urinals, and a selection of other bathroom aids. The bathroom can be a frustrating place if your mobility is not what it was, but with our help, you can alleviate a lot of that and reclaim some of your independence.
Livings aids and accessories
It's not just the bathroom. Our range of living aids allow you to get about the rest of the house more easily and in greater comfort than before. These include a variety of walking aids, such as quad canes, walking sticks, crutches, Zimmer frames and wheeled walkers. We also provide a number of other aids and accessories, like positioning aids for beds and chairs, shopping trolleys, kitchen accessories, household equipment, dressing and grooming products, and emergency systems, each designed to help you about the home.
Other aids and accessories
From replacement batteries for your mobility scooter to useful travel pouches for your wheelchair, we have plenty of handy accessories both instore and online. These include essentials like access ramps and grab rails, as well as replacement parts for your existing mobility aids.
Why choose Kardinal Independent Living for your mobility accessories?
When it comes to choosing an independent living aid or accessory, there are so many reasons to make Kardinal Independent Living your first (and only) port of call. Here are just a few of them…
Wide choice of products available
No matter what you buy from Kardinal Independent Living, be it a top of the range mobility scooter or a handy tool for helping out around the house, you can rest assured that you are receiving an item of the very highest quality. All of our accessories are hand-picked for that very reason, giving you peace of mind.
Your local mobility scooter specialists
While we are based in Worthing and have another showroom in Rustington, we deliver our independence aids and accessories all over the country, with a specific focus on our valued customers across the South East. This means that customers in Bognor Regis, Burgess Hill, Chichester, Crawley, Eastbourne, Guildford, Hastings, Haywards Heath, Horsham, Hove, Lewes, Tunbridge Wells, and beyond experience the same high quality of service as those who live in the same towns as our main stores.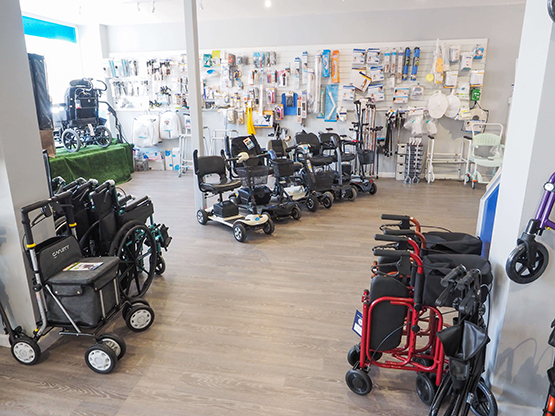 Get in touch
For all your mobility aids and accessories across the South East, call Kardinal Independent Living on 01903 232326 for more information or a free quote.