Quality Acorn Stairlifts installed and serviced across the South East
For many of our customers suffering with mobility issues, one of the biggest problems they encounter in their day-to-day life is the simple task of getting up and down the stairs. Not only can it be a tiresome exercise and often painful for them to negotiate the staircase, the prospect of having a slip or a fall becomes a very real risk to many. Rather than give up their home for a single-level bungalow, a large number of our customers choose to benefit from the use of a stairlift to help them regain their independence at home.
Here at Kardinal Independent Living, we are delighted to partner with Acorn Stairlifts, one of the premier manufacturers of high-quality mobility solutions in the country. With a range of models suitable to fit any staircase, you are sure to find a device that perfectly meets your mobility needs. We provide a swift and hassle-free installation service to our customer across the South East, including those in Bognor Regis, Burgess Hill, Chichester, Crawley, Eastbourne, Guildford, Hastings, Haywards Heath, Horsham, Hove, Lewes, Rustington, Tunbridge Wells, Worthing, and beyond.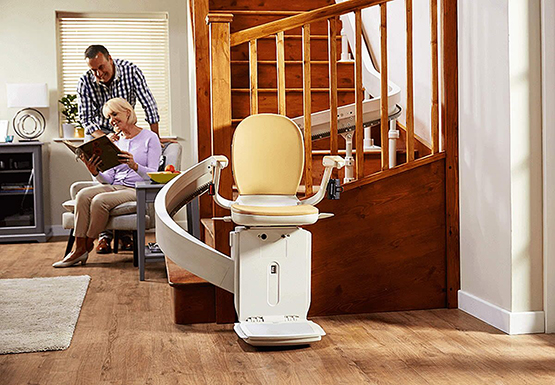 What Kardinal Independent Living can do for you
As the South East's foremost experts in mobility and independent living solutions, there is much that we can do for our customers across the South East when it comes to installing a quality stairlift. Here are just some of our more popular services…
Straight stairlifts
Acorn Stairlifts' standard model is ideal for staircases that have no turn in them, operating on a straight rail up the side of the wall. Modifications can be made to reduce the space taken up for those customers who only have a narrow staircase at home, and all models come with a 12-month warranty.
Curved stairlifts
The curved stairlift does exactly what you would expect, running along a gently curving rail to deal with any staircases that change direction as they take you to the next floor. Our technicians will take full measurements of the staircase prior to installation, to ensure that the finished product runs smoothly on its rails throughout the journey.
Outdoor stairlifts
For their outdoor solutions, Acorn Stairlifts attach to the steps themselves, rather than the wall, so you need worry about big holes being drilled into the outside of your house. Comes with weatherproof covers to protect against the elements.
Installation and servicing
We have a team of fully-trained stairlift technicians who will install your new stairlift for you, and also provide a regular servicing to your device, to ensure that it remains in good working condition.
Why choose Kardinal Independent Living for your stairlift needs?
When it comes to having a stairlift installed at home, there are plenty of reasons to choose us. Here are a few of them…
A high-quality product
At Kardinal Independent Living, we only ever supply our customers with the very best products on the market, which is why we are so pleased to partner with Acorn Stairlifts. As one of the finest stairlift manufacturers in the country, our customers are guaranteed a first-rate product that will last them for years with regular servicing.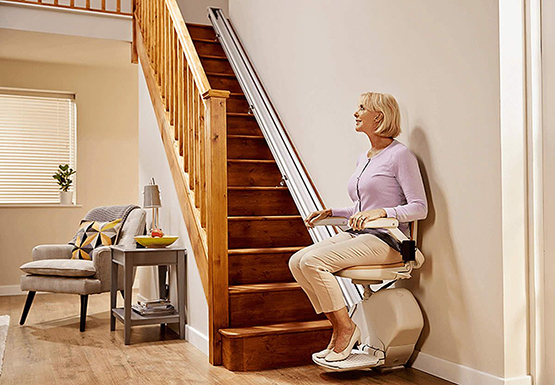 Your local mobility scooter specialists
Based in the West Sussex towns of Worthing and Rustington, our team of technicians travel up and down the South East region, providing essential servicing and installation of stairlifts to our customers from as far afield as Bognor Regis, Burgess Hill, Chichester, Crawley, Eastbourne, Guildford, Hastings, Haywards Heath, Horsham, Hove, Lewes, Rustington, Tunbridge Wells, and beyond.
Over 20 years' experience
We have been trading since 2011, installing stairlifts in the homes of customers across the South East. Our team of sales staff and technicians have been part of the mobility industry for more than fifty years between them, bringing a wealth of experience to every job that they take on. From discussing your requirements, through installing your Acorn stairlift, to providing regular servicing, you know that you're in safe hands throughout the process.
Get in touch
For all your stairlift needs across the South East, call Kardinal Independent Living on
01903 232326 for a free quote, or to arrange a free demonstration.