Welcome to Kardinal Independent Living, the foremost provider of mobility aids across the South East.
Based in the beautiful seaside towns of Worthing and Rustington in West Sussex, we have been in business since 2011, providing the region with the very best in mobility scooters, mobility chairs (including power chairs and wheelchairs), rise and recliner chairs, stairlifts, adjustable beds, and a range of other products to help our customers live the independent lives they deserve.
In the years we have been in business we have earned ourselves a reputation not only for the excellence of our mobility products, but also for the dedication of our friendly and professional team of staff. With thousands of satisfied customers from Bognor Regis, Burgess Hill, Chichester, Crawley, Eastbourne, Guildford, Hastings, Haywards Heath, Horsham, Hove, Lewes, Rustington, Tunbridge Wells, Worthing, and beyond, it is a reputation that we deserve, and one that we strive to live up to at all times.
What Kardinal Independent Living can do for you
As the South East's premier mobility professionals, we have a lot to offer our customers across the
region. Here are some of our more popular products and scooters.
Free Home Demonstration
It is the nature of our business that many of our customers are not able to make it to one of our showrooms unaided. We understand this: it is this freedom to move about, after all, that we are trying to return to you. Customers across the South East – including Bognor Regis, Burgess Hill, Chichester, Crawley, Eastbourne, Guildford, Hastings, Haywards Heath, Horsham, Hove, Lewes, Rustington, Tunbridge Wells, Worthing, and beyond – can benefit from our home demonstration service, completely free of charge.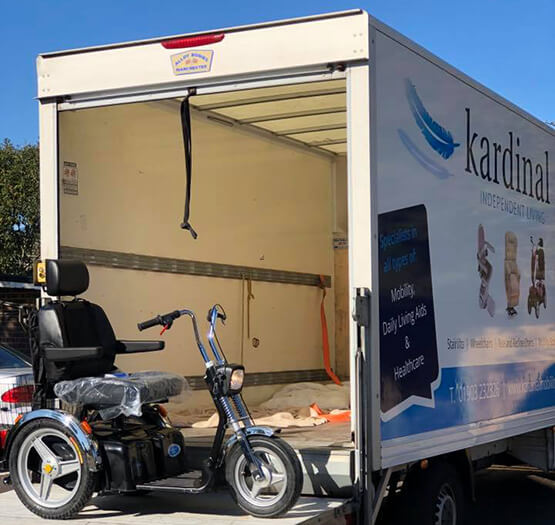 Awesome quick prompt and polite service with a really nice family feel to the company like nothing is to much for them to do to help the customers

So happy with service received from Kardinal. Connor took care of the modifications I had asked for on the fantastic TGA Supersport scooter that I had just purchased from Kardinal. Connor also arranged the delivery to Spain. My father is now in possession of his new scooter and is over joyed. I highly recommend Kardinal and would certainly use them again. Thank you for all your help. Virginia

Writing this on behalf of my mum who has nothing but praise for this company, very polite staff and she is very happy with her new scooter, also slight delay in delivery but not their fault and now she is racing round the streets enjoying every minute. Would definitely recommend Kardinal to all.

Always helpful but not pushy. Knowledgeable and truly caring about your needs. Would not hesitate to recommend. Connor is young but really understands the problems facing the elderly and disabled. And after sales is terrific, one quick call and all is sorted. They keep me out and about and independent .

Excellent service from Kardinal. Very friendly and helpful. I bought a Foldalite Pro Wheelchair which I absolutely love as now I can get out and about easily on my own. I will definitely be buying from Kardinal again as I found them to be understanding and there always ready to help you. I highly recommend Kardinal if you want friendly and professional service for all your mobility items. 5*****'s

My mother recently bought a mobility scooter from Kardinal and she is over the moon with it. Mum lives in London but Connor was very helpful and said it was no trouble going to her to show what they had, she did have an idea on the scooter she wanted and Connor took one of these for her. She now has her independence back and can get out and about again. Mum asked me to leave a review as she was very impressed with the service she received. I would definitely recommend Kardinal to anyone with mobility problems.

My husband and I have just brought a mobility scooter from Kardinal and we are delighted with both the service we received and the scooter. We had a full briefing on the features of the scooter and we were able to take it for a test drive to see if it suited us. We were also able to try it in the boot to check it fitted. All the staff in the shop were very friendly and helpful. We have also had very good follow-up care - our questions have been answered swiftly and additional information has been supplied on request.

My mother recently purchased a mobility scooter from Kardinal, Connor even went to London so she could have a look at what they had for her. She is over the moon with her new scooter and is now able to get out and about again. Thank you Connor and all the team for giving a lady her independence back.

Massive thank you to Josh, Neil and Chris for the prompt collection, super job done and delivery on time. Thank you all. Chris you're a star, for coming out to me when my electrics were playing up. You sir deserve a pay rise.

Helpful and accommodating staff who went out of their way to advise on and locate a riser / recliner chair for my 104 year old mother.

Fantastic company. Carl and Conner great at their jobs. Very knowledgable. Plenty of time and patience for their customers. If they haven't got what you want, they'll do their best to get it. Highly recommend. Thanks guys. See you soon. Trace XX

Bought lovely cobra scooter off connor lovely to drive good fun great for uneven ground would highly recommend as an ex action driver in films loved the fact it looked a bit like a motorbike and drives like. One too

Have just had electric bed and chair delivered to my Mother, who is now one very happy bunny! I cannot thank Connor enough for his help, fantastic understanding and knowledge of what is needed for people who are still very proud but find it a little bit difficult to accept that things are getting harder to do. I would totally recommend Connor, his team and Kardinal as a whole for all things needed to help our loved ones.

very helpful. great after sales stick to there guarantee. Perfect genuine caring company.

Can't fault anything about these guys. Great products, great prices and great service. Will 100% deal with them again!

Amazing service as usual at Kardinal. They always go out of there way to be helpful. The whole team are friendly and professional. 5* customer service.

great service very friendly and happy to help with any issues you have thank you for ur great service
See Our Most Popular Products
At Kardinal Independent Living we pride ourselves on great customer service
Stairlifts
If you have difficulty moving about, stairs can be one of the biggest obstacles in your house. As the proud suppliers of Acorn Stairlifts, we can assure of a quality solution to your stair problems, one that can be installed with the minimum of fuss.
A stairlift will help you master 'the three Rs': Regain your independence, Retain full use of your home, and Remain in the home you love. Installing an Acorn Stairlift removes the obstacle of stairs if they become too challenging.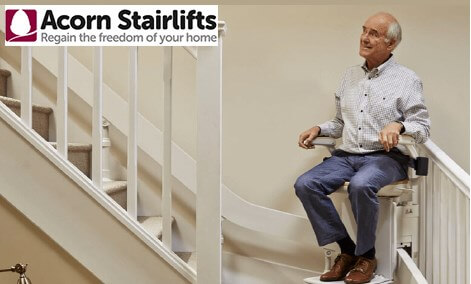 Why choose Kardinal Independent Living for your mobility needs?
There are many reasons to choose us, whatever your mobility requirements might be. Here are just a few of the more common reasons as offered by our thousands of satisfied customers.













Get in touch
Whatever kind of mobility scooters,rise and recline chairs, adjustable beds, stairlifts, or other devices you might require across the South East, call Kardinal Independent Living today on 01903 232 326.  One of our staff will happily talk you through your options or, alternatively arrange for a free home demonstration for you.