Mobility scooters, mobility chairs, and stairlifts across Maidstone
From our main showroom in Worthing, West Sussex, Kardinal Independent Living delivers essential mobility and home living aids right across the country. This includes our valuable customers in Maidstone.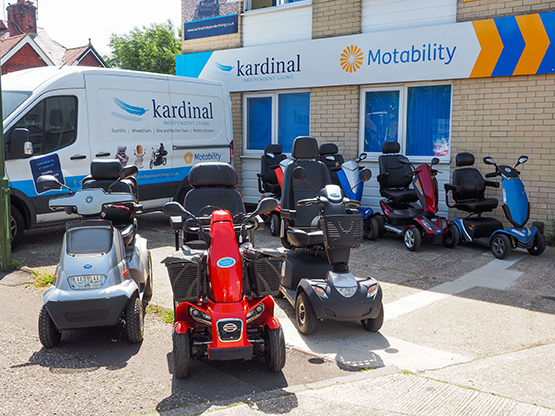 What Kardinal Independent Living can do for you
As one of the country's top mobility companies, we have much to offer our customers in Maidstone and beyond. Here are some of our more popular services.
Mobility scooters in Maidstone
Whatever you're looking for in a mobility scooter, the team at Kardinal Independent Living has you covered. Do you need a larger model to carry your shopping, or a folding mobility scooter to fit in your car? Whichever you prefer, our experienced mobility technicians will be able to recommend a vehicle that meets all your requirements.
Mobility chairs in Maidstone
Our mobility chairs are available in all shapes and sizes, so there will always be something to suit you. From manual wheelchairs to battery-operated power chairs, we have a wide range of options that you can choose from. Every mobility chair comes with a full warranty and we can even arrange a home demonstration for you.
Rise and recliner chairs in Maidstone
If getting in and out of your existing chair is proving problematic, why not consider a rise and recliner chair? These handy devices provide support while sitting, rising, and turning, reducing the risk of injury and pain. What's more, they come in an extensive range of designs and colours, guaranteeing you'll find one perfect for your home.
Stairlifts in Maidstone
All our stairlifts are installed by Acorn Stairlifts, a well-respected company with whom we partner. We know that they provide the same high standards of care and professionalism to our Maidstone customers as we do. Not only that, aside from the stairlift itself, our customers can also benefit from a free installation with every purchase.
Bathroom, incontinence, and other independent living aids in Maidstone
As well as mobility devices to get you out and about, we offer a range of living aids to help in the home. These include everything from grooming and dressing accessories to bathroom and kitchen aids. Our Maidstone clients can take it easier, knowing that we have solutions in-store for many of their day-to-day activities.
Other services in Maidstone
We offer a range of other mobility services to our Maidstone customers. As members of the national Motability scheme, we have a selection of mobility devices available for lease. We can even help you with the paperwork. We also offer a mobile servicing unit, which allows you to keep your mobility vehicle in tip-top shape.
Why choose Kardinal Independent Living?
There are many reasons for our Maidstone customers to choose us for their mobility requirements. Here are just a couple of them.
High-quality products
We make sure that every product we keep in store is of the highest possible standard. All our mobility devices, aids, and accessories are hand-picked by our team of mobility experts. This ensures that we only purchase from reputable manufacturers. This is your guarantee that each product bought from us will provide maximum customer satisfaction.
Over 20 years' experience
Between us, the Kardinal Independent Living team has been part of the mobility industry for over fifty years. This kind of experience and dedication is how we can ensure a first class service every time. From the moment you pick up the phone to the moment you receive your mobility device, we are here to help.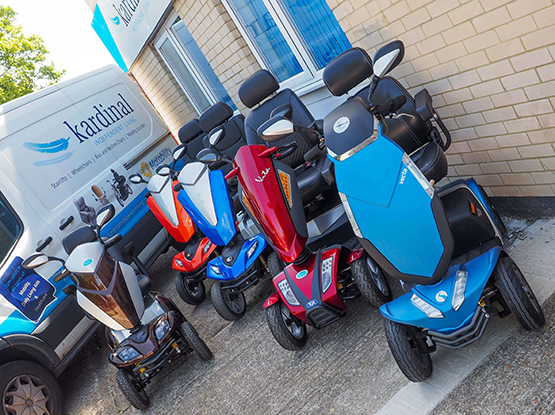 Over 20 years' experience
Our team of mobility experts is made up of experienced professionals, who have been working in the industry for more than fifty years between them. This kind of expertise cannot be understated, as it allows them an in-depth understanding both of the products we supply and the requirements of our customers. Whatever your query, feel free to ask a member of our team, who will be willing and able to assist you.
Get in touch
For all your mobility scooter, mobility chair, adjustable bed, and stairlift need in and around Maidstone, give Kardinal Independent Living a call today on 01903 232326.