Mobility scooters, mobility chairs, and stairlifts in Burgess Hill
From our main showroom in Worthing, Kardinal Independent Living has been providing the people of Burgess Hill with the very best in bespoke mobility solutions since 2011. With a range of stairlifts, mobility scooters, mobility chairs, adjustable beds, rise and recliner chairs, and various other aids and accessories in permanent stock, customers can rely on us to deliver a quality product every time.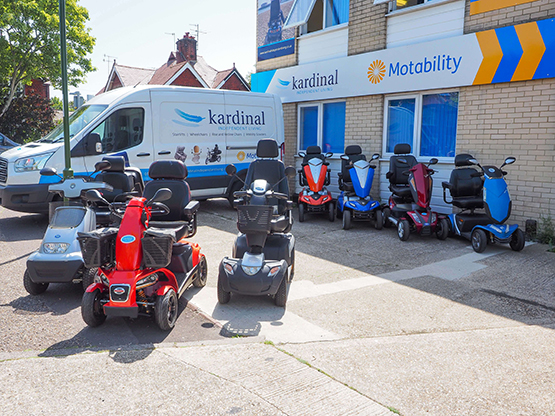 What Kardinal Independent Living can do for you
As the region's top mobility professionals, we have much to offer our Burgess Hill customers. Here are some of our more popular services.
Mobility scooters in Burgess Hill
Our range of mobility scooters can only be described as extensive. With each model benefitting from a 12-month warranty and free home demonstrations in Burgess Hill and beyond, no matter which you choose – a pavement rider, a road-ready model, or a folding mobility scooter – you end up with a machine that will last for years, with proper servicing.
Mobility chairs in Burgess Hill
Mobility chairs are a good choice for customers looking for a more compact and slimline option from the mobility scooter. We have bother powerchairs and wheelchairs in stock, giving you great choice in meeting your own mobility needs.
Rise and recliner chairs in Burgess Hill
If you have difficulty sitting and standing at home, let our range of rise and recliner chairs assist you in regaining some of your independence. We have a range of designs to choose from, so you should be able to find one what matches your living room.
Stairlifts in Burgess Hill
Climbing up and down the stairs can easily become a chore if you suffer from mobility problems. Thanks to our partnership with Acorn Stairlifts, that needn't be the case anymore for our Burgess Hill customers. Arrange for an immediate installation and enjoy the freedom and independence that only a high-quality stairlift can bring.
Bathroom, incontinence, and other independent living aids in Burgess Hill
We have a huge variety of independent living aids to help you in your day-to-day life around the home. Whether you buy online or from one of our showrooms, you're guaranteed a quality product and a speedy delivery.
Other services in Burgess Hill
From Motability applications and 12-month warranties, to home demonstrations and a mobile servicing team, we have so much to offer our Burgess Hill customers. Give us a call today to see how we can help you with all of your mobility concerns.
Why choose Kardinal Independent Living for your mobility needs?
There are, of course, so many reasons for our Burgess Hill customers to choose us for their mobility requirements. Here are just a handful of them.
Wide range of products
At Kardinal Independent Living, we only stock products that we have picked ourselves, items that represent the very best on the market.
Your local mobility scooter specialists
From our main Worthing and Rustington showrooms, our mobile team of service technicians and home demonstrators covers the whole of the South East, including Bognor Regis, Chichester, Crawley, Eastbourne, Guildford, Hastings, Haywards Heath, Horsham, Hove, Lewes, Rustington, Tunbridge Wells, Worthing itself and, of course, Burgess Hill.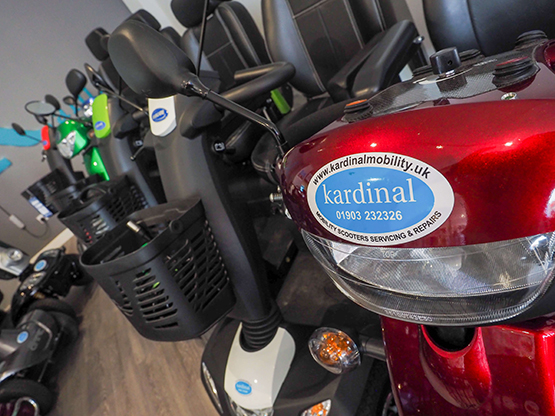 Get in touch
For all your mobility scooter, mobility chair, adjustable bed, and stairlift need in and around Burgess Hill, give Kardinal Independent Living a call today on 01903 232326.