Mobility scooters, mobility chairs, and stairlifts across Bournemouth
At Kardinal Independent Living, we provide high-quality mobility products to customers across the country. From our showroom in Worthing, West Sussex to Bournemouth and beyond, we deliver only the best.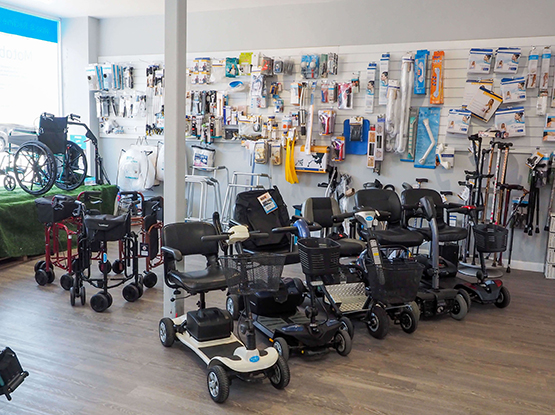 What Kardinal Independent Living can do for you
As one of the country's top mobility companies, we have much to offer our customers in Bournemouth and beyond. Here are some of our more popular services.
Mobility scooters in Bournemouth
Whether you favour a folding mobility scooter, or something with greater size and weight, we can help. At Kardinal Independent Living, we have a permanent stock of quality mobility devices available for our Bournemouth customers. Our advisors can help you choose the right vehicle for you, and will even arrange a free home demonstration.
Mobility chairs in Bournemouth
We have several mobility chairs available to our Bournemouth clients. These include both manual wheelchairs and battery-operated electric power chairs. Whichever kind you prefer, you will find the ideal model in our online store. Call today and we can arrange for a demonstration of our mobility chairs right in your own home.
Rise and recliner chairs in Bournemouth
We know many of our customers struggle getting into and getting out of their chairs. Our range of rise and recliner chairs may be the answer. They provide all-over support whilst seated and the raising seat mechanism aids with sitting and standing. Available in a variety of colours and styles, finding one that matches your home couldn't be easier.
Stairlifts in Bournemouth
All our Bournemouth stairlift orders are fulfilled and installed by our partners at Acorn Stairlifts. A well-respected stairlift company, we trust them to deliver do the same high standard as us. With their dedication to providing a high quality service, you are assured a smooth and hassle-free installation. Call today for more details.
Bathroom, incontinence, and other independent living aids in Bournemouth
We want all our customers in Bournemouth to lead as independent a life as possible. On top of our range of mobility scooters and chairs, we offer several aids and accessories to help with everyday tasks. With living aids for the bedroom, bathroom, living room, kitchen and more, you're bout to find the ideal accessory.
Other services in Bournemouth
Kardinal Independent Living is part of the Motability scheme. This allows customers in Bournemouth and beyond to lease mobility vehicles from us, rather than purchasing outright. We don't just help with finding your ideal mobility device or power chair. We will also assist you with filling in all the paperwork.
Why choose Kardinal Independent Living?
There are many reasons for our Bournemouth customers to choose us for their mobility requirements. Here are just a couple of them.
High-quality products
We want our Bournemouth customers to know that every item in our store is of the highest quality. Our team of mobility specialists hand pick each product, choosing them carefully from well-respected manufacturers. This is your guarantee of receiving well-produced mobility devices and independent living aids that are designed to last.
Over 20 years' experience
We make sure that all our Bournemouth clients get the service that they deserve. How we do this is simple: we employ experienced and fully-trained mobility experts to assist you from start to finish. Between them, our team has over half a century of relevant expertise in the mobility industry, guaranteeing you quality service.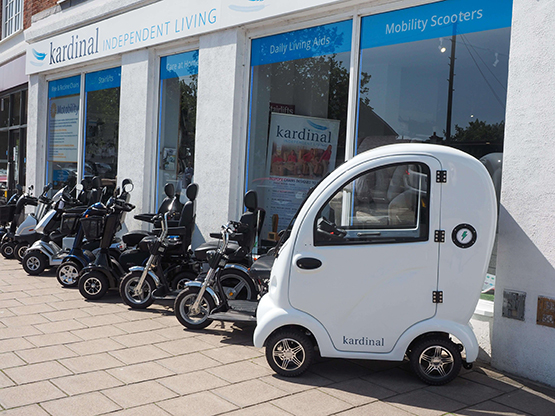 Get in touch
For all your mobility scooter, mobility chair, adjustable bed, and stairlift need in and around Bournemouth, give Kardinal Independent Living a call today on 01903 232326.