Mobility scooters, mobility chairs, and stairlifts across Birmingham
We operate from our main showroom in the West Sussex town of Worthing. From here we provide essential mobility products and services to customers nationwide. This, of course, includes those valued customers in Birmingham.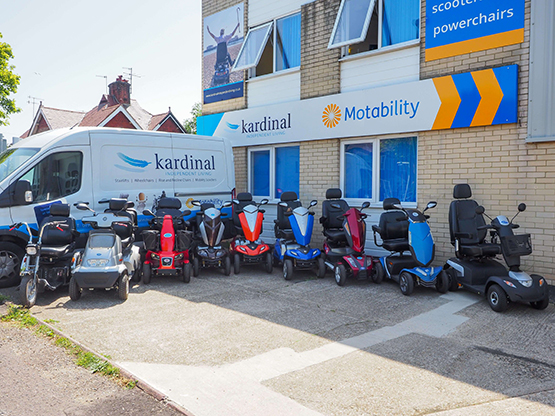 What Kardinal Independent Living can do for you
As one of the country's top mobility companies, we have much to offer our customers in Birmingham and beyond. Here are some of our more popular services.
Mobility scooters in Birmingham
There are many types of mobility scooter to choose from in our online store. We provide folding mobility scooters that can be placed into a car boot, as well as more substantial models. No matter what your specific requirements, our experienced staff will find a mobility vehicle that meets them. Call today to arrange a free home demonstration.
Mobility chairs in Birmingham
Mobility chairs are small than scooters and designed for both indoor and outdoor use. We have a range of models in permanent stock. These include battery-powered electric power chairs, as well as manual wheelchairs. Our staff are on hand to advise you on the best model to suit your particular mobility needs.
Rise and recliner chairs in Birmingham
Rise and recliner chairs are a unique solution to a common problem. Many of our Birmingham clients struggle to get in and out of their existing chairs. Our rise and recliner chairs can help them to do so. They are designed to offer maximum support at each stage of rising and sitting, making your life easier.
Stairlifts in Birmingham
We have partnered with Acorn Stairlifts to provide our Birmingham customers with quality stairlift solutions. We have worked with them for some time and know they deliver the same high standards that we do. Every stairlift purchase made from Kardinal Independent Living benefits from free installation by these dedicated professionals.
Bathroom, incontinence, and other independent living aids in Birmingham
Sometimes our customers' mobility problems don't end with getting out and about on one of our scooters. Sometimes even everyday tasks become an arduous chore. For this reason, we stock a range of independent living aids and accessories. These are designed to help with day-to-day activities and restore some of your independence at home.
Other services in Birmingham
We are part of the Motability scheme. This allows our Birmingham customers to lease one of our mobility scooters or powers chairs, rather than buying it. We are always on hand to offer reliable advice and to assist with filling in the paperwork. We also provide a mobile servicing team to keep your scooter in top condition.
Why choose Kardinal Independent Living?
There are many reasons for our Birmingham customers to choose us for their mobility requirements. Here are just a couple of them.
High-quality products
Our Birmingham customers can rest easy, knowing that every item we have in store is of the highest quality. Each product is hand chosen by our team of mobility experts to guarantee maximum customer satisfaction. We only stock products from reputable manufacturers – items that we would be prepared to use ourselves.
Over 20 years' experience
We have been part of the mobility industry for a long time. Between us, our team have over five decades of relevant experience in the field. This means they have the knowledge and expertise to offer reliable advice to our Birmingham customers. It also means that you are assured a high standard of customer service every time.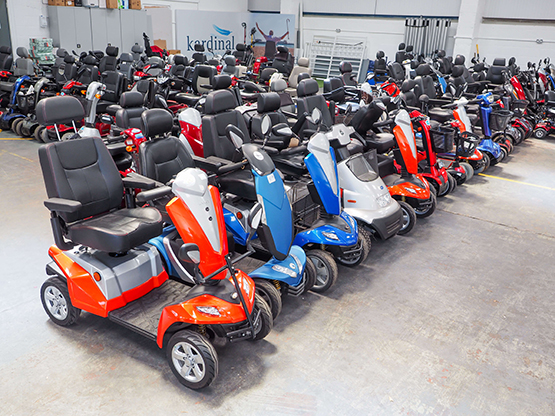 Get in touch
For all your mobility scooter, mobility chair, adjustable bed, and stairlift need in and around Birmingham, give Kardinal Independent Living a call today on 01903 232326.