Discreet and effective incontinence pads and briefs for the South East
Incontinence is not something many of us feel comfortable talking about, but it is a fact of life for many of our customers here at Kardinal Independent Living. Unfortunately when one's mobility is affected, it sometimes means that we're not always able to make it to the lavatory on time. Whether for this, or an unrelated medical reason, incontinence products are an essential requirement for a great number of our customers in and around the South East. Customers from all over the region, including those in Bognor Regis, Burgess Hill, Chichester, Crawley, Eastbourne, Guildford, Hastings, Haywards Heath, Horsham, Hove, Lewes, Rustington, Tunbridge Wells, Worthing, and beyond take advantage of the range of discreet and effective incontinence products we provide.
What Kardinal Independent Living can do for you
As the South East's foremost providers of every kind of independent living aid, we have much that we can offer any of our customers suffering from incontinence issues. Here are a handful of our more popular services…
Disposable personal pads
Our range of pads from the Lille company are ideal for any customer suffering from mild to moderate incontinence. With separate products specifically designed for men or women, these disposable pads are thin enough to be entirely discreet when worn at home or out in public.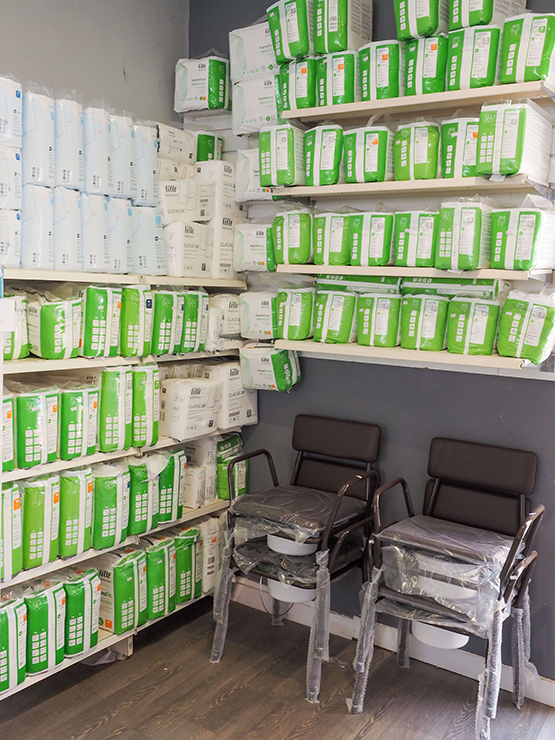 Disposable furniture pads
As well as personal incontinence pads, we also provide furniture pads that will protect chairs and beds in the event of an accident.
Disposable incontinence briefs
These single-use briefs combine all the effectiveness of the rest of the Lille range of incontinence pads with the convenience of being able to wear as regular, everyday briefs. They are available in various sizes and have individual designs for men and women, ensuring dryness and comfort throughout their use.
Washable incontinence briefs
These items are regular fabric briefs, in separate designs for men and women. The only difference is a discreet pouch for inserting an incontinence pad. These pouches ensure that the pad will stay in place during the day or night. Once the pad has been removed and disposed of, the briefs can be machine-washed as normal.
Understanding and experienced staff
All of our team of employees are professional mobility experts with a combine 50+ years in the business. They understand the incontinence issues that some of our customers have and are happy to discuss your requirements frankly and openly, so there is no need to feel embarrassed broaching the subject, either on the phone or in person.
Why choose Kardinal Independent Living for your incontinence needs?
When it comes to choosing incontinence aids, there are many reasons to come to Kardinal Independent Living. Here are just a few of them…
A high-quality product
All of the incontinence pads and briefs that we keep in stock are from one of the most well-respected companies in the industry – Lille Healthcare. Since they started producing their line of pads and protectors in 1980, they have sold billions of units worldwide. At Kardinal Independent Living, we only ever choose the best products for our customers, and Lille incontinence pads set the standard for the market.
Your local incontinence aid specialists
We have showrooms in Worthing and Rustington, but we deliver across the South East, if you are unable to visit us instore. This means that our customers in Bognor Regis, Burgess Hill, Chichester, Crawley, Eastbourne, Guildford, Hastings, Haywards Heath, Horsham, Hove, Lewes, Tunbridge Wells, and even further afield can benefit from the same great incontinence aids as customers in our home towns.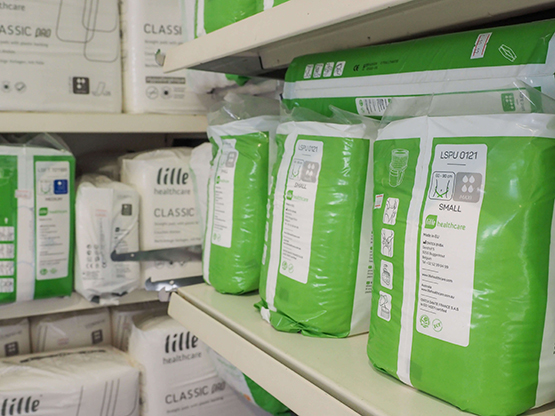 Get in touch
For all your incontinence product needs across the South East, call Kardinal Independent Living on 01903 232326, or check out our online store.