Rise and recliner chairs available to buy across the South East
For many of our customers with mobility issues, one of the hardest things to do is the simple act of sitting down in or standing up from a chair in their own home. While some find movement a little easier once they've had a chance to get warmed up and moving a bit, most report that the initial movement from or to a seating position causes them severe problems. As with all mobility issues, the reasons might vary from person to person (for some it's a matter of balance, for others a question of pain in the joints). In either event, here at Kardinal Independent Living we have a potential solution: our rise and recliner chairs.
We have a broad range of these chairs in stock at all times in our Worthing and Rustington showrooms, and are able to deliver them to customers across the South East. Whether you live in Bognor Regis, Burgess Hill, Chichester, Crawley, Eastbourne, Guildford, Hastings, Haywards Heath, Horsham, Hove, Lewes, Rustington, Tunbridge Wells, or beyond (not to mention Rustington and Worthing themselves, of course), you can get a comfortable and effective rise and recliner chair delivered direct to your door.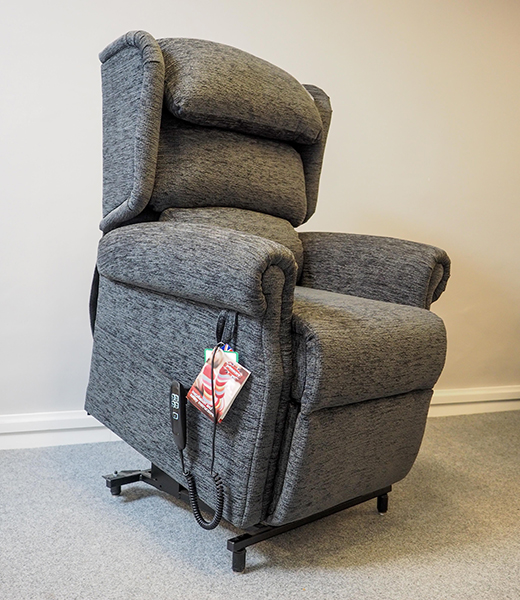 What Kardinal Independent Living can do for you
As the South East's number one mobility solutions company, we have a lot that we can offer to our customers across the region. Here are some of the more popular services we provide…
A wide variety of rise and recliner chairs
At their heart, all rise and recliner chairs fulfil the same function – a motorised armchair that can be leant back into a comfortable and reclined position for easier rest and relaxation, or raised up at an angle to assist you when standing up from it. While all of our chairs can do this, there is a lot of variety among our extensive range. From the material used in their upholstery, to the number of motors operating the mechanism, to the number of positions into which it can be configured, there are any number of possibilities to choose from. Luckily, our highly-trained and experienced staff are on hand to assist you in making the right choice. With their knowledge of the product and their decades of experience in the business, you can rest assured that we will find you the perfect chair to meet your mobility needs.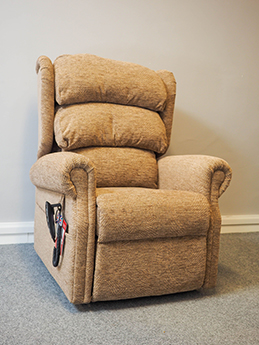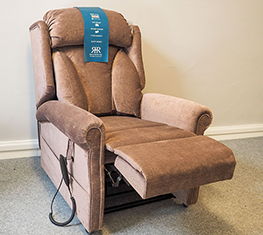 Free delivery and home demonstrations
A rise and recliner chair is a big piece of furniture, make no mistake, and we don't expect our customers to haul it home with them from either of our showrooms. All of our rise and recliner chaise benefit from free home delivery, provided by our own team of drivers. Likewise, if you would like to try out the benefits of one of our rise and recliner chairs, but are unable to make it to our showroom, you can arrange for a home demonstration.
Why choose Kardinal Independent Living for your rise and recliner chairs?
When it comes to rise and recliner chairs, you will not find a better place to choose one from than Kardinal Independent Living. Here are a few of the reasons why…
Your local mobility scooter specialists
From our main showrooms in Worthing and Rustington, our team of mobility experts cover a fifty-mile radius, delivering rise and recliner chairs and offering home demonstrations to customers as far apart as Bognor Regis, Burgess Hill, Chichester, Crawley, Eastbourne, Guildford, Hastings, Haywards Heath, Horsham, Hove, Lewes, Rustington, Tunbridge Wells, and even further afield.
Over 20 years' experience
We have been in business for the past eight years, but our team of mobility professionals have been working in the industry for a lot longer. Bringing more than five decades of relevant experience with them, these dedicated mobility experts can help you make the right choice in chair.
Get in touch
For all your rise and recliner chair needs across the South East, call Kardinal Independent Living on 01903 232326 for a free quote, or to arrange a free demonstration.